Blog Home
Fall Fun with Corn at The Groves at Piney Orchard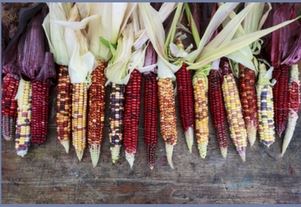 September means The Groves at Piney Orchard is ready to greet the coming autumn — leaves changing colors, harvest in full swing, pumpkins, squash, and cornucopias making an appearance as autumn decorating options are all a part of it. Today we add to that list the humble cob of corn. Decorative corn, known as either flint corn or Indian corn in America, with its multicolored kernels is often used as part of fall or harvest themes.
Flint corn is one of the oldest types of corn. It was the strain of corn the Native Americans taught the pilgrims to cultivate. Its kernels come in various colors including white, blue, and red have "hard as flint" shells which give the corn its name. Despite the hardness of the shell, the corn can be eaten, typically as hominy or polenta. More often though, it is used as decoration.
We gathered up some ideas about how to use flint corn to decorate your Groves at Piney Orchard apartment with an autumn theme. From corn-husk garlands and wreaths to "bouquets" and centerpieces, to luminaries, the Homesteading blog has some awesome ideas for decorating for autumn with Indian corn.
Corn isn't only for decorating. Popcorn is an American favorite, we eat approximately 17 billion quarts every year. That is the equivalent of filling the Empire State building eighteen times! We have some recipes featuring corn (including popping corn)to share too.
Fiesta Chicken with Spanish Rice features hominy as one of the ingredients. It's found on the Cutestuff Cooks blog, and while we were nosing around there we also found a recipe for
Caramel Corn and Other Treats a salty-sweet, tasty way to enjoy some popped corn.
Flavored popcorn is a hit, too. Try one of these toppings on your next batch: 50 Flavored Popcorn Recipes (from the Food Network).
What is your favorite popcorn fix? Please share in the comments, and thanks for reading today's blog post!