Blog Home
Vacation Tips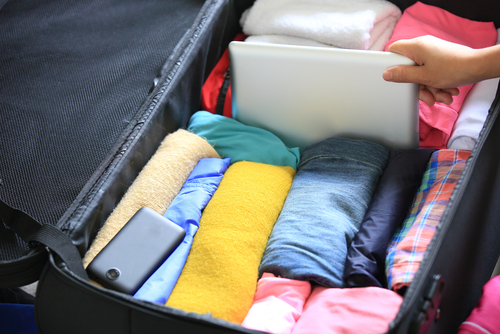 Summer vacation. The very words stir up memories of years gone by and the now amusing bonding stories of prior adventures. Before you head out from your Groves at Piney Orchard apartment for this year's summer vacation, read through the handy packing and traveling tips we've packed in this month's post!
Before You Leave
Download and use one (or several) of these handy apps from KOA that may help your trip go more smoothly.
Pay any bills that will come due while you will be away so you won't have to fret about them during your trip.
Prepare a travel wallet for your trip. Only transfer the items you will need for your trip from your everyday wallet.
Confirm your reservations the day before you leave on vacation. Add phone numbers for taxi service, airlines, and lodging to your phone before you leave. That way if your data plan won't work for some reason, you will still have access to contact information.
On the Road
Check the weather en route and at your location adjust your packing if necessary to accommodate weather changes
Split up your cash, don't carry it all in one place — that way if you lose some of it, you're not up a creek without a paddle.
We have a few suggestions of how you can preserve memories from your trip. One idea is to send postcards to your home address from each place you visit, with a written memory from that location. Another idea would be to keep a travel journal with pictures and memories from the trip. Create a digital photo album.
Use Foursquare, an app made to help you discover new places as you travel. This handy app is perfect for finding delicious places to eat and things to see, all by recommendations based on your user history. Watch this awesome video by Howcast to learn more about how this app works.
Coming Home
Before you leave, make plans so your return to Odenton, MD is a pleasant and welcoming experience. Be sure to take the trash out, take care of any dirty laundry, and clean out the refrigerator before you leave so you don't come home to a smelly apartment. In preparation for your homecoming, plan an easy-to-fix meal and freeze it; for example, a frozen lasagna and garlic bread will make an easy, hearty meal. Take time to change the sheets on your bed before you head out the door. There's nothing like coming home after a trip and slipping between the sheets of a freshly made bed, except perhaps sleeping in your own bed!
Thanks for reading today's post and happy traveling this summer!